Building a more equitable, Non-Communicable-Disease (NCD)-ready health care system
18 July 2023 | Kigali, Rwanda
The Taskforce on Women and NCDs is partnering with the NCDI Poverty Network, NCD Rwanda Alliance and The George Institute of Global Health in organising a concurrent session on 'Taking stock towards building a more equitable, Non-Communicable-Disease (NCD)-ready health care system' (Session ID 17139) in Women Deliver 2023 Conference on July 18, Tuesday at 15:30-17:00 CAT. This session will focus on the burden and impact of NCDs among women and girls in low and middle-income countries (LMICs), particularly across the African region. The event will assess ongoing advocacy efforts, leverage new research, and consider frontline experiences to identify opportunities and promising strategic models that are being implemented to build an integrated, equitable and sustainable healthcare system. The discussion will guide advocacy plans across key NCD 'Best Buys' and identify priorities to be carried forward in the WHO/AFRO region ahead of the UN High-Level Meeting on NCDs (2025).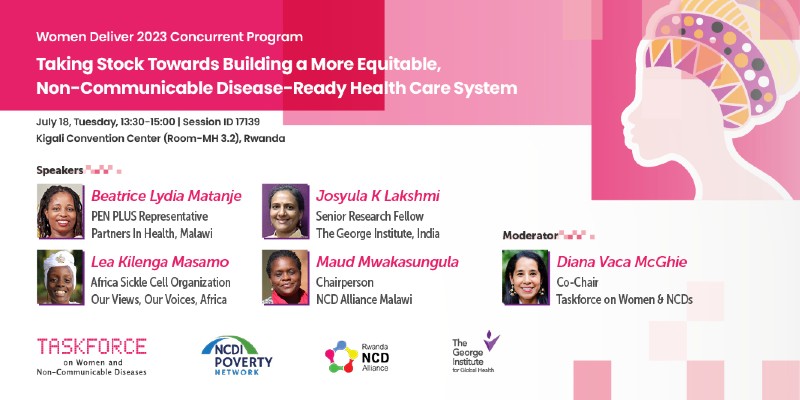 About Women Deliver 2023 Conference
The Women Deliver Conference 2023 taking place in Kigali, Rwanda, as well as virtually, from 17-20 July 2023. As one of the largest multi-sectoral convening to advance gender equality, the conference and global dialogue are co-created by grassroots advocates, multilateral governments, the private sector, philanthropies, and youth, including from and representing communities facing systemic discrimination. Around 6,000 people in Kigali and 200,000+ people online are expected to convene through the virtual Conference and six-month Global Dialogue leading up to the Conference. With sexual and reproductive health and rights at its core, the conference will center intersectional feminist principles, to address compounding issues impacting girls and women — from climate change to gender-based violence to unpaid care work — and collectively identify and action evidence-based solutions. Concurrent sessions will be organized through a matrix approach developed with input and feedback from the WD2023 Advisory Group. The participants will be guided to the interactive virtual platform once the registration is completed.